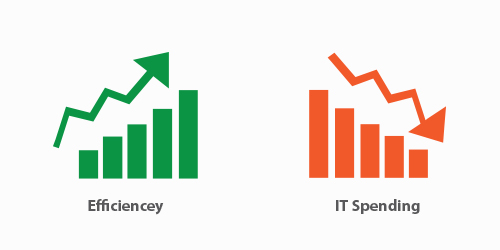 If your business relies on using a network, servers, and computers then you will need someone to maintain them. Yes hiring qualified IT professionals is expensive, which for many small and medium-sized businesses, having dedicated IT department may not be cost effecient for what you need.
Its important to consider that there are other options. A managed IT services provider can work with your existing IT team instead of hiring additional staff or provide all of your IT services for a fraction of hiring internally.
Here are the top reasons many business choose to outsource their IT:
Reducing Overhead Costs
Consider that the hiring a new IT Support Technician in Ontario can be between $30,000 - $60,000 and when the network is stable and workstations are running smoothly the majority IT team has little to do beyond routine maintenance and waiting for the next helpdesk call.
Businesses are looking for local managed IT service providers (MSP) who can provide remote and on-site maintenance and support of at the same level of full IT department for a flat monthly fee at a fraction of the cost.
Focusing Resources on the Core Business
Freeing up funds from IT to use towards the core business is another strong reason why many businesses are choosing to partner with managed IT servcies firms. Most businesses don't make their revenue from IT services yet IT staffing can contribute to be a large expense for small and midsized businesses, which is why it makes sense to outsource it to the experts for less than hiring another full-time employee.
Quality of Work is Assured with Service-Level Agreements
Hiring an IT services company like Netmon Services, includes a contract that specifies the levels of service a business receives tailored to their needs. The agreement includes guarantees of performance metrics, including response time and rectifying routine problems. It is much more difficult to hold in-house staff accountable in the same way and as effectively.
A mature and well managed firm will have outlined proceedures and tasks for their staff to manage their client networks in order to meet these requirements.
Network Monitoring and Proactive Support
Outsourcing network administration and monitoring means not having to worry about routine network problems or IT problems, such as printing issues and email misconfigurations. The managed IT service handles all of these support problems for you many time before you notice there is an issue.
Access to the Best in Class Resources
Among the most expensive aspects of running an in-house IT department are the tools that are required. Monitoring applications, ticketing software and other management tools are all covered when working with a MSP.
Partnering with an MSP will also provide their insights into selecting the best applications for a businesses goals because they have a breadth of experience and invest heavily into testing and assessing tools to ensure that it meets their clients expectations.
Greater Control of Hardware Costs
A managed IT services partner will help a business control it networking costs by developing a roadmap help to determine what hardware is actually needed. As well as what additional services might prove beneficial (such as server virtualization or moving physical servers to a cloud service), and when it's time to upgrade.
Many MSPs also receive preferential pricing which they pass on to their clients based on relationships with hardware vendors because of the frequency and quantity of business they do with them across their client base.
Keeping up With Technological Trends
Technology changes can be difficult for in-house IT teams to stay current with the latest trends because new skills require additional training and spending.
A mature IT services firm will provide regular training to their staff and will hire new specialized staff to stay current and competitive with the latest technology trends. Businesses benefit by outsourcing the expert staff when needed rather than trying to maintain it in-house.
Managing Business Outcomes from Technology
Partnering with a professional IT service firm helps keep businesses stay ahead of the technological curve. A good firm can serve as a strategic partner, advising when there is a need to expand the network or add new technologies that will help the business reach its goals.
Improved Network Security
All businesses can be susceptible to malware and hackers without taking the proper precautions and security measures. Hackers often take over one computer as a platform to launch an attack on another system to cover their tracks. A MSP will ensure that all security patches are installed and use advanced firewalls, network monitoring and clean backup protocols to help prevent a malware attack and shorten the time to recovery.
Are you considering hiring more IT staff?
Before you do contact us for a consultation to see how much more Netmon Services can do for you.